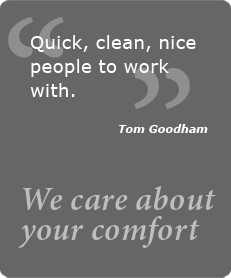 About Gas Appliance Service
Gas Appliance Service has served the heating, cooling and internal air quality needs of Greater Seattle-area residents since 1950. Our fleet of service crews are on the job 24 hours a day, year round providing customers with prompt, courteous service.

Gas Appliance Service Customer Care: Gas Appliance Service is a family-owned business. That philosophy carries through on how we treat our customers. We think of you as family. If you're not comfortable, we want to fix that. If you need help, we are there for you, 24 hours a day.

The Service Department at Gas Appliance Service: Gas Appliance Service's in-house Service Department is staffed with professional technicians dedicated to being green AND saving you green. By helping our customers conserve energy, GAS not only conserves resources, BUT also helps reduce your heating and cooling costs. We service all types of heating and cooling equipment, and install the newest and most efficient equipment available today. Gas Appliance Service provides heating, cooling, indoor air purifying, attic insulation, and much more!

Contact Gas Appliance Service in Greater Seattle at 206-632-5000.